'The Art Of Fairy Tales', is dedicated to our cultural heritage that has existed over millennia, stories that explain the truth of living.
Fairytales are for the young at heart, they allow us to escape what might be a moribund everyday existence into a flight of pure fantasy. There's nothing like a fairy story, it's a written and visual intoxication.
The art that you'll find here is pure escapism too, but with a firm grounding in realistic art. Fairytale oil paintings have stood the test of time, so make the best long term investment.
We can secure these precious myths and legends, by including them in our everyday lives. Buy fairytale gifts and homewares in the form of original art and limited edition prints, as well as fashion, and gifts.
Sustainability
Designs are based on fairy tales, fairies, myths and legends for bed-linen, or mugs, to eco-backpacks, and tablet slips, and there's much more. Our collections include items chosen for their high quality, as well as having a natural, sustainable, 'green' content.
Original Art
The realm of fantasy sparks artistic creativity, inspiring original oil paintings and prints together with a range of semi-precious and precious jewellery.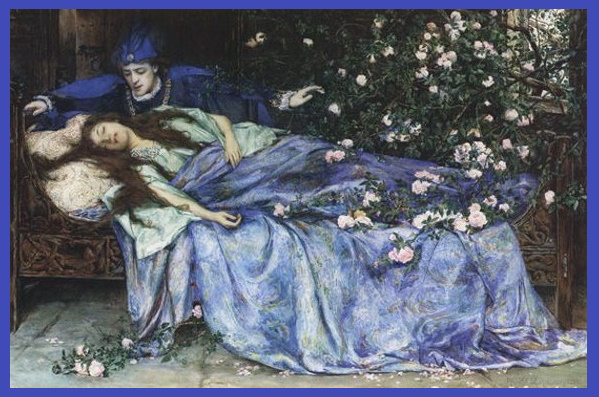 'Sleeping Beauty' by Henry Meynell Rheam